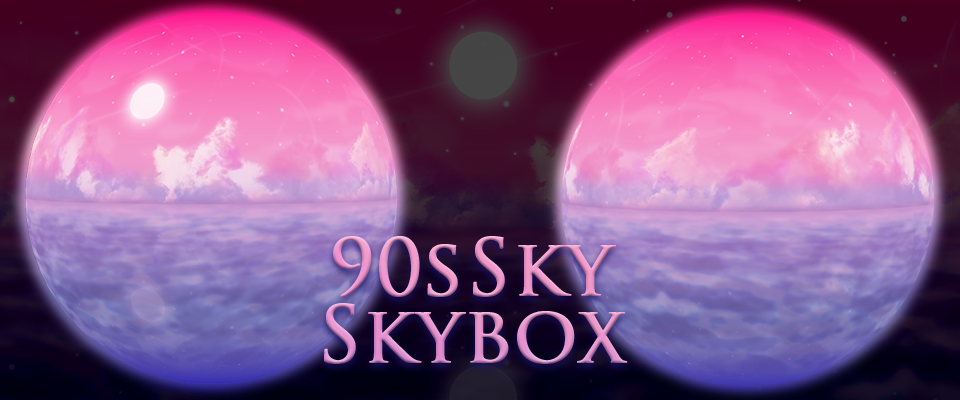 90sSky Skybox
A downloadable asset pack
Skybox Specs
1:1 Aspect Ratio, designed for Latitude-Longitude Layout (Cylindrical) cube mapping.
Inspired by Super Mario 64 skyboxes, and skyboxes of similar games.
Can be used as a merged, single layer skybox or in layers for a parallax effect.
Designed for Unity, but can be adapted to other engines, especially Unreal.
Fancy magenta and purple stylized design, perfect for a vapor wave game or animation.
Contents
1 Stylized Skybox, which includes:
Layered 4k PSD (1 image)
Individual 4k PNG Layers (5 images)
Individual 1k PNG Layers (6 images)
Individual 256, Retro-fied PNG Layers (5 images)
Merged 1k Cubemap (1 image)
Merged 2k Cubemap (1 image)
Merged 4k Cubemap (1 image)
Merged 256 Retro-fied Cubemap (1 image)
Basic Skysphere models (6 FBX files)
FOR UNITY: Cubemap shaders
FOR UNITY: Custom example Shader for multi-layered skyboxes
FOR UNITY: Example Scenes with everything set up:

Med Cost (Optimized for most uses)

Med Cost, High Compatibility (For older machines)

Low Cost, High Compatibility (Stylized Retro)
License Info
Purchase of this asset pack allows commercial use of its assets, even without credit. Although, credit is appreciated. The only restriction is that the assets in this pack cannot be redistributed on their own. For example, using these assets for a commercial game, game jam, or YouTube video is acceptable. However, re-packaging these assets in your own asset pack is not allowed. If using these files with source control, like Git, please ensure these files can't be downloaded freely by the public. Distribution among a team working on a project is fine.

Set Up
This pack requires certain packages if you want to use the included shader graph shaders. Open Unity's Package manager and display the Unity Registry. Please make sure to install the following packages in that list:
Universal RP (Universal Render Pipeline)
Shader Graph
Core RP Library (Likely Pre-installed)
Additionally, if you want the shaders rendered with the Universal RP, you will need to finish setting it up in the Project Settings. Further reading here:
https://docs.unity3d.com/Packages/com.unity.render-pipelines.universal@7.1/manua...
The shaders can be used without setting up the Universal RP, but they will render using the Built-In RP. Regardless, the Universal RP package will be needed to compile the shader.
Purchase
In order to download this asset pack you must purchase it at or above the minimum price of $2 USD. You will get access to the following files:
ZZD - 90sSky - v1.0.unitypackage
42 MB
ZZD - 90sSky - v1.0.zip
43 MB